Description
This kit includes a new chipboard ornament set (a simple set of a front piece with a window and a flat back with a scalloped edge — both with a hole for hanging). I designed this year's ornament to have space for decorating (around the edges of the main image you put in the center).
Plus 12 mini papers with zippy Christmas prints, star sequins, ribbons for decorating or hanging AND a new collage sheet with fun images for the center.
Beside the 2-layer, Round Ornament Frame Set (exclusive to this kit), this kit contains:
Collage Sheet:
- New! Retro Xmas Round Ornaments Collage Sheet (Wow! There is so much mid-century cute here you may faint!)
Scrapbook Paper:
- TWELVE 6" x 6" double-sided papers — one each of all the patterns in the Vintage Christmas 6x6 Paper Pad.
Trims:
- SIX yards of ribbons — a subset of the 2017 Christmas Ornaments Ribbon Set, chosen for a broad range of colors and widths.
- 2.5mm Multicolor Star Sequins (A bunch of tiny stars in a cute little plastic "tin". The lid screws on so you (hopefully) won't end up with stars all over the floor.) Beside using the stars to scatter about for some twinkle, you could also use them to make a "shaker card" by adding a Clear Plastic Round Dome (not included in the kit, but the center window cut in the chipboard ornament frame also fits these domes).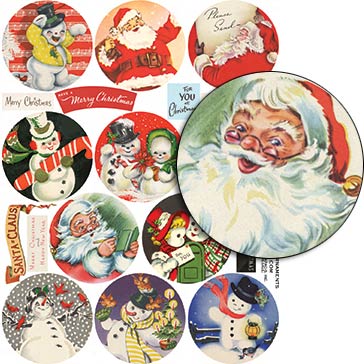 See the "We Also Recommend" section below for photos/links to the items in the kit that are also available to purchase separately.
All the items in the kit are On Sale, too!
Note: there are 3 new related ornament frame sets — more info on them is in the newsletter announcing this kit.
 
Timing
Kits are announced the first weekend of each month. However, if you sign up for a subscription, your kit will probably have already been mailed to you.
A note on timing for subscribers: the kits don't ship till your automatic payment is made; the recurring payment date is based on the date you signed up for the subscription. If you'd like to make a 1-time "catch up" payment so that you'll be first in line to receive all future kits, contact Customer Service.
If you buy a subscription after the 15th of the month, your first kit will be for the following month (so if you subscribe on October 16th, the November kit will be your first kit).
Kits from previous months will be available for purchasing until sold out.
And remember, here's a link to everything in this month's kit that is also available to buy separately. More coordinating goodies (and artwork) are in the blog post announcing this kit.
Teri Calia made a Christmas Ornament (see the wide photo below). More info in the blog and/or see the supply list.
171108BL 171116SC 171112NB 171109RT 171029LC 171029KB 171029TC 171109RT 171119NB 171125LM 171116RT SOkitdiv