Description
A set of 5 large curtains (and other pieces), sized for the 7" Tall Theatre Cabinets. These curtains are 8-1/2" wide. They can also be used on other large shadowboxes, or downsized as you wish.
Also included are:
- 3 sets of box seats, to use in the 2 narrow shadowboxes that are used as "doors" for the cabinet.
- 2 wide headers (if you'd like to add a facade above the center of the cabinet).
- 5 sets of columns, sized for the deep edges of the cabinets.
- 1 scalloped facade, sized for the center of the cabinet (the yellow archway shown in the background shown at right and in the artwork below; it matches the Wide Aladdin Facade with Columns).
Note: you'll need to print 4 columns for the sides of the theatre cabinets (there are narrow and wide columns provided, for the 3" deep and 5" deep cabinets).
A total of 20 files (some of the sets of columns are symmetrical).
Guest Designer Tristan Robin Blakeman made a Beauty and the Beast Theatre (see the wide photo below). More info in the blog and/or see the supply list.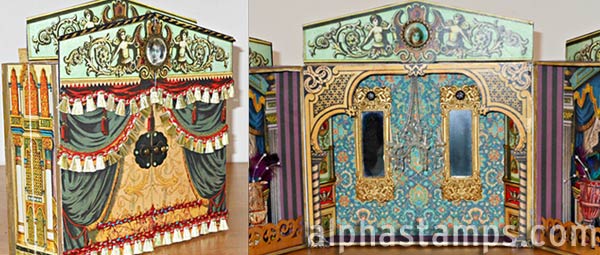 180223LC dgtlUSG 180208TB