Description
Almost Spring! Well... it was feeling like Spring a couple weeks ago. All the trees started to bud and now we're having a hail storm so I don't think there'll be many flowers on those trees this year.
But... Spring! And bulbs, chicks, rabbits, baby ducks... sounds like time for a new kit!
See that photo (at right) of me holding one of FOUR new covers for the Mini Shadowboxes? That one I'm holding (the smallest one) is in the Easter Egg Shadowbox Kit!
That's a little box (just 2" x 3") but perfect for a tiny shrine to a fuzzy Spring chick.
The kit does includes some new 12mm eggs (cute), and tons of 6x6 papers in patterns (and florals and egg designs) — "tons" in this instance means 15. 12 of the sheets are from the new Cottontail 6x6 Paper Pad, so you'll get all of the designs from that pad.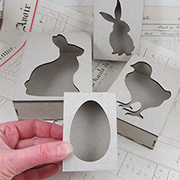 And new collage sheets! Teri Calia designed one called Happy Easter (with lots of options, from bunnies holding a banner (in 2 sizes) to baskets of violets for decorating your tiny shadowbox).
I designed a second collage sheet called Easter Banners, with banners to fit all four sizes of Mini Shadowboxes. Some banners have Easter greetings, some are left blank for your own text. It also includes tiny postcards that can be used as flags (or pennants) for making a hanging banner.
See the "We Also Recommend" section below for photos/links to most of the items in the kit — the ones that are available to purchase separately.
AND: all the items in the kit are On Sale, too!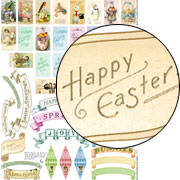 Timing
Kits are announced the first weekend of each month. However, if you sign up for a subscription, your kit will probably have already been mailed to you.
A note on timing for subscribers: the kits don't ship till your automatic payment is made; the recurring payment date is based on the date you signed up for the subscription. If you'd like to make a 1-time "catch up" payment so that you'll be first in line to receive all future kits, contact Customer Service.
If you buy a subscription after the 15th of the month, your first kit will be for the following month (so if you subscribe on October 16th, the November kit will be your first kit).
Kits from previous months will be available for purchasing until sold out.
And remember, here's a link to everything in this month's kit that is also available to buy separately. More coordinating goodies (and artwork) are in the blog post announcing this kit.
180308SC 180304TC spring bunny rabbit bunnies 180308SH SOkitdiv 180404BL