Description
For this kit I wanted to choose a theme and colors for the Winter season, but that weren't connected to Christmas (as you may want to make a crown to wear in January or February).
That search for Winter colors led to the new Romantique Paper Collection, with a pretty mix of soft colors, shabby wallpaper prints, and French ephemera (2 of the scrapbook papers from the collection are in this kit — plus I added a couple more scrapbook papers from other collections, for a total of FOUR 12" x 12" sheets in the kit).
And then snowflakes and glitz! A chipboard snowflake (one from the new Chipboard Snowflake Shape Set — and see below for a superb crown by Design Team Member Lora Mahaffey using the snowflake front and center!), a new 4 Inch Round Gold Doily and both shapes from the new Fancy Gold Dresden Rosettes are also included.
Collage Sheets:
- New! Mini French Labels Collage Sheet (Pretty, vintage frames & French labels. Many are retinted to coordinate with the Romantique Paper Collection. All are sized small enough to use on a mini crown, and will also work well on ATCs or other small collages.)
- A template for making miniature crowns (exclusive to the kit). The template is for crowns about 3" diameter (when finished) but both Lora and Rhonda have made variations to fit an adult. (princess?)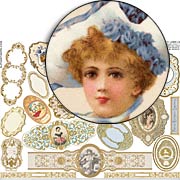 See the "We Also Recommend" section below for photos/links to the items in the kit that are also available to purchase separately.
There are 2 big, wide photos below showing more details, and you can click on either for a much bigger image. AND: all the items in the kit are On Sale, too!

Timing
Kits are announced the first weekend of each month. However, if you sign up for a subscription, your kit will probably have already been mailed to you.
A note on timing for subscribers: the kits don't ship till your automatic payment is made; the recurring payment date is based on the date you signed up for the subscription. If you'd like to make a 1-time "catch up" payment so that you'll be first in line to receive all future kits, contact Customer Service.
If you buy a subscription after the 15th of the month, your first kit will be for the following month (so if you subscribe on October 16th, the November kit will be your first kit).
Kits from previous months will be available for purchasing until sold out.
And remember, here's a link to everything in this month's kit that is also available to buy separately. More coordinating goodies (and artwork) are in the blog post announcing this kit.
Design Team Member Lora Mahaffey made a Frosty Autumn Crown (see the wide photo below). More info in the blog and/or see the supply list.
Design Team Member Rhonda Secrist Thomas made a Small Winter Crown (see the wide photo below). More info in the blog and/or see the supply list.
171230NB 180104NB 171203RT 171203LG 171203LM shabby chic french paris 180111NV Parisian SOkitdiv