Description
Shown as part of the Gargoyles Kit (click to see the coordinating goodies).
A beautiful selection of sepia French postcards (with wonderful Edwardian fashions) from the enviable collection of Rhonda Secrist Thomas.
Includes Notre-Dame, Arc de Triomphe and the Opera House.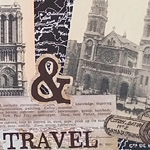 Journey Journal by Design Team Member Rhea Freitag. See the Supply List.
For more information see the blog.
Vintage Paris Postcards Collage Sheet Notre Dame Arc de Triomphe Opera House architecture 131227GA 140406rfc 160821AC LTEC