Description
Beer (many pre-prohibition-era varieties), ginger ale, lemonade, root beer... lots of vintage labels here! Most are sized for 1:12 scale (some are larger and can be used as signage). And the small ones are duplicated so you have enough for a 6-pack.
NOTE: since these are miniature, the printed version of this sheet is on a lighter weight 24 lb laser stock (the normal 80 lb stock is just too heavy at this scale!)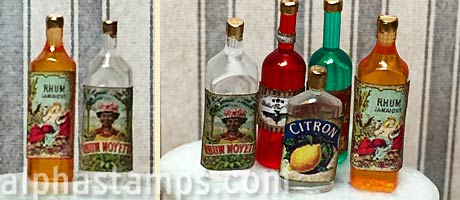 Sample bottles by Teri Calia using labels from this collage sheet and the Rum Bottles, Labels & Posters Collage Sheet; see this list of bottles that these tiny labels fit.
fruit ginger ale, lemonade, root beer. 180211KB 160717KB 160717SC 160717SC 200719SC 160728BT 190728NB 200621KB 200816SC