Description
A nice rustic bowl (could be considered 1:12 scale if using as a serving bowl). Or maybe as a mortar & pestle? 3/4" wide x 3/8" tall.
These are also included in the Matchbox Cabinet Kit; see all the other kit components available to buy separately. 
Sold individually.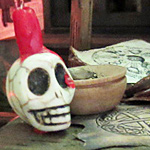 Witch's Cottage by Shannon Cooper; See the Supply List.
More info is in the blog.
Tiny Wooden Bowls 150725swc 150730law 150906LRTE 150906LGSC 150920LBC 151022WCS 160417RMA 190915LM 112cabbtls 160901RS 160908BT 160915LC 170524LM 201108NB 210328SC 201029CL 170702MatCabkit