Description
The feel of carved stone (artificial turquoise)! They feel wonderful (nice weight and surface... and each one is unique).
8mm tall. See the additional photos for size comparison to the 12mm and 18mm versions. 
Set of 2.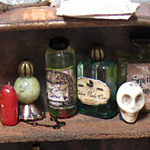 Witch's Cottage by Shannon Cooper; See the Supply List.
More info is in the blog.
150705magpokit 150712csb 150723smt 200119SC 150725swc 15083NBT 171001KB 150830DLO 150906LGHB 150927CHH 151018THS 160901RS 160908NB 160908LM 190905SC 181007KB 190901KB 161016RT 161204BL 170524LM 170528BL 180607SC 200924KB 201001RT 201018RT