Description
 
It all started with this tiny suitcase. Quite practical (as with most items we've been using for 100s of years), from a vintage vacation project to an African safari, I think it will be a useful little prop. Then... one thing led to another (big thanks to Design Team Member Shannon Cooper!) and this kit took a turn toward Victorian quack medicine.
So this little suitcase has become a salesman's sample case (see Shannon's fab artwork shown below). Shannon covered the suitcase in faux leather and lined it with Asian Calligraphy Scrapbook Paper (that paper is included in this kit, along with 4 other designs, all chosen as they look like leather or vintage lining fabric prints). Note: the 5 papers in the kit are 6" x 6". More than ample for a tiny suitcase. See a list of all of the items in the kit or see below for photos & links to all of the items (in the "We Also Recommend" section).
Shannon also used tiny straps and hinges (turned into corners) from the Vintage Travel Tags & Hardware Collage Sheet. Then filled the suitcase with bottles and jars of products (see her supply list for all of the bottles she used, and also the teeny tiny labels from collage sheets).
The tiny trunk lock (new!) Shannon used on the suitcase would be perfect for a tiny steamer trunk, too.
But back to this kit! The kit also includes a set of Small Chipboard Apothecary Jar Shapes. So cute!They can fit in the suitcase if you wish (you could use them behind a row of 3D resin or glass bottles or just decorate them by themselves). And the classic shapes would work well for urns, candy jars, cookie jars... all kinds of things.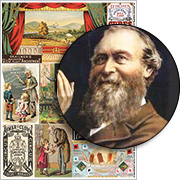 Plus a new collage sheet with labels for those jars: Snake Oil Labels. I used only vintage labels (none of these concoctions were created for effect), but they are quite a read. Sized to fit the large and small chipboard apothecary jar shapes (and they'll also fit glass or resin bottles from 1" to 2" tall).
AND another new collage sheet: Just What the Doctor Ordered. These are great (in a creepy kinda way): adverts for quack medicines from the Victorian age. Amazing anyone survived. Note: the curtains at top left fit the height of the Bathing Machine (the Bathing Machine is not included in this kit, but it is a cool new item and used as a traveling medicine show wagon in Shannon's artwork).
More info in the newsletter announcing this kit.
A note on timing for subscribers: the kits don't ship till your automatic payment is made; the recurring payment date is based on the date you signed up for the subscription. If you'd like to make a 1-time "catch up" payment so that you'll be first in line to receive all future kits, contact Customer Service.
If you buy a subscription after the 15th of the month, your first kit will be for the following month (so if you subscribe on October 16th, the November kit will be your first kit).
Kits from previous months will be available for purchasing until sold out.
Here's a link to everything in this month's kit that is also available to buy separately. More coordinating goodies are listed on the blog post announcing this kit.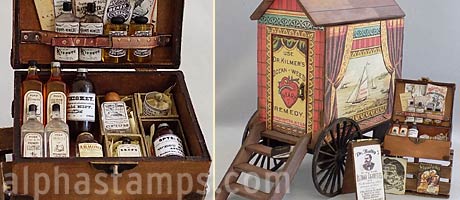 Snake Oil Caravan by Shannon Cooper. See the Supply List.
More info is in the blog.
160801SC SOkitdiv august 2016