Description
The sheet has 3 sizes of little coffins to put together, plus some handles and other hardware.
Exclusive to Alpha Stamps by Teri Calia.
Shown below as part of Teri Calia's Creepy Goblin Cemetery; See the Supply List. More info in the blog.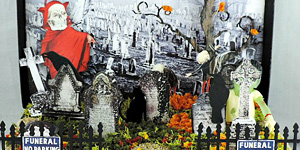 Goblin Zombie Rise by Design Team Member Shanna Shands. See the Supply List.
More info is in the blog.
Tiny Little Coffin Boxes - Decayed Collage Sheet 150801cgc 150802addcemt 150827SSA 150830RTL 150913KLD 150920LDG 160925SC CATN