Description
Lots of sizes, from ATCs to inchies and slides (the sizes work well with standard 1" x 3" microscope slides). Quite a few black cats have wandered in, too. Check out the additional photos above to view a larger sample of one image (from an amazing calendar from 1900).
Many of the small labels would fit miniature glass bottles.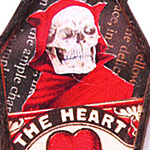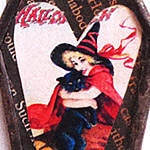 Halloween coffin pendants by Design Team Member Lynn Stevens.
See this blog post about Lynn's artwork being published!
Skeleton Slides Collage Sheet Hallosearch halloygsale poison skeletonsearch witchgiveaway witch hazel digital 130818wtc 130822ga halloween 131024lht 140921LCC 180713KB 141019lapb 150104KBSB 150712csb 150910LWB 150920LGV 160428LMQ 161002KB HLWN