Description
You may remember a mini sheet of my own version of the vintage clown picks that Design Team Member Kristin Batsel often uses in her adorable circus artwork. Well, I've expanded that sheet and included some larger clowns, too; still offered facing left and right.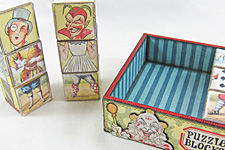 Circus Puzzle Blocks by Kristin Batsel. See the Supply List.
More info is in the blog.
150503RAJC 150517CTT 150524VMC 150528BCT 150607CCF 181101BL 150625kb 150924BTS