Description
I've been looking for some tiny metal findings that would work as miniature box feet and finally found these babies. But who knows what other uses you'll find for them.
The diameter of the open end is 5mm. 
Set of 4.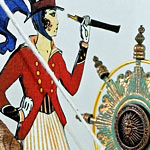 The Sea Calls To Me - Paper Sailboat by Design Team Member Laura Carson. See the Supply List.
For more information see Laura's tutorial.
130303wlc 140112lcd 140209lclbcd 140413lshp 140413lpb 140817rsr 150319SMT 150611LS 150906LGHB 160505LBD 160821AC 180315LC 160828LC 170803LC 170813LC 161023LC 170824EL 200903new 220320RT 220522new