Description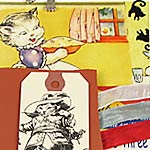 Shown as part of a Cat-themed Giveaway (click to see all the prizes).
Isn't he adorable? I love the cavalier costume. (And don't you think men should wear lace on their boots again?)
On a tangent: Why do The Three Musketeers use swords and not muskets?
Sized to work great on ATCs.
Approx. 2-1/4" x 3" unmounted stamp.
Adorable tag, shown in additional photo above, by Design Team Coordinator Miz Bella (Kim Ayers).
redrbr 181014new cats kittens 111231catsGA