Description
The portions with cut and fold lines (upper left and lower right of the sheet) fold together to make a little 3D stage.
Designed for a small paper theatre (about 4" x 3"... so with a little cropping will also fit an ATC).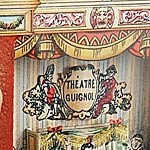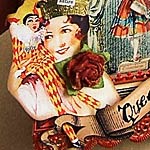 Shadow box by Teri Calia.
See above for a larger photo.
Portrait Small Theater Guignol Collage Sheet searchCircus Pierrot Harlequin Commedia Carnival Mardi Gras digital punch judy PTH