Description
All kinds of quotes & phrases for your Edgar Allan Poe or Halloween artwork: 'Once upon a midnight dreary, while I pondered, weak and weary', 'Quoth the Raven, "Nevermore."', 'Perversity is the human thirst for self-torture.' and 'Believe nothing you hear, and only one half that you see.'... plus Poe's signature and some ravens (and a skull).
This sheet is also available in the Poe 4-Sheet Collage Sheet Set.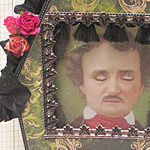 The Mourning of Poe's Raven by Design Team Member Rhonda Secrist Thomas. See the Supply List.
For more information see the blog.
Poe‰۪s Words Collage Sheet hallosearch halloygsale digital 130519tc 130818wtc 130915eap halloween crow raven bird 140907rpr 140904TPS 141002LHP 160929HP HLWN