Description
Oh, this is fun! Not only a new kit (with lots of color and pretty papers) but tons of new collage sheets — and paper theatres to play with!
There is a new Punch & Judy Theatre being announced today (not in the kit, but everything in the kit coordinates with that new theatre). The chipboard facade in the kit can be used alone or with the new theatre (and wait till you see the fabulous artwork today)!
There are THREE beautiful (big, 12" x 12") scrapbook papers in the kit. Lovely patterns that work well as backgrounds, plus each sheet has a focal that could be the center of a card or a collage. Nice, heavy sheets, too.
New collage sheets! One of FIVE new collage sheets designed for making paper theatres is included in this kit! Pink Children's Theatre includes a big facade image, curtains, and a few characters... all sized to fit the Punch & Judy Theatre (the characters are each approx. 2-1/2" tall). The facade image is sized to fit the entire front of the Peaked Roof Theatre Facade (which is also included in the kit).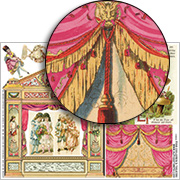 This kit is bursting with embellishments, too! Beside those rhinestone hearts and stars (in my hand in the photo), see additional photos for a better photo of all the Dresden borders! 2 styles in 3 colors = 6 different borders!.
See the "We Also Recommend" section below for photos/links to most of the items in the kit — the ones that are available to purchase separately. Also you can check this custom search to see photos of all of them.
All the items in the kit are On Sale, too!
Timing
Kits are announced the first weekend of each month. However, if you sign up for a subscription, your kit will probably have already been mailed to you.
A note on timing for subscribers: the kits don't ship till your automatic payment is made; the recurring payment date is based on the date you signed up for the subscription. If you'd like to make a 1-time "catch up" payment so that you'll be first in line to receive all future kits, contact Customer Service.
If you buy a subscription after the 15th of the month, your first kit will be for the following month (so if you subscribe on October 16th, the November kit will be your first kit).
Kits from previous months will be available for purchasing until sold out.
And remember, here's a link to everything in this month's kit that is also available to buy separately. More coordinating goodies (and artwork) are in the blog post announcing this kit.
Teri Calia made a Pussy Cat Theatre (see the wide photo below). More info in the blog and/or see the supply list.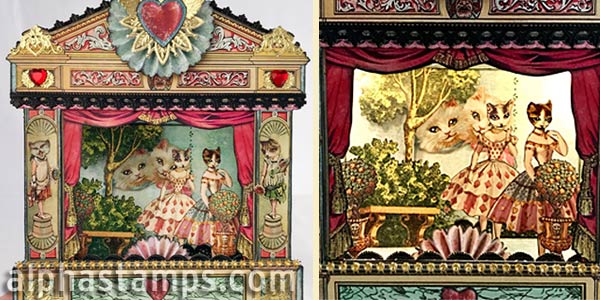 Design Team Member Rhonda Secrist Thomas made Behind Closed Doors (see the wide photo below). More info in the blog and/or see the supply list.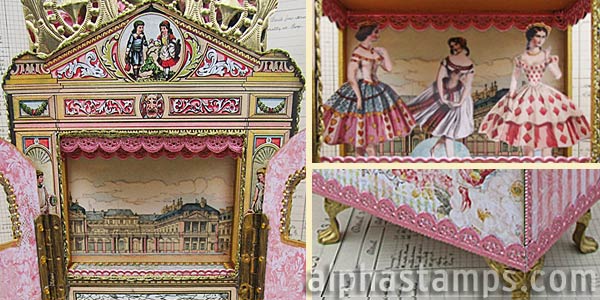 180204TC SOkitdiv dancers ballet 180204RT