Description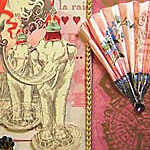 Shrine by Think Pink Art Challenge winner Marilyn B. Hughes.
A lovely mix of vintage labels with a Middle Eastern feel and some swirly/curvy Art Nouveau paper theatre flats.
Arabian Nights ATC shown above by Design Team Member Laura Carson created for the Arabian Nights Framed ATCs Swap; other components in Laura's artwork.
130804lcc 130804kbs 130804nkt 130807lnc 190922RT