Description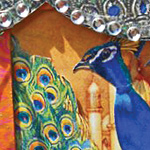 Peacock ATC by Design Team Member Shannon Tuttle; other components in Shannon's artwork.
Beautiful, colorful images from vintage ads and paper theatre prints (and, no, we're not endorsing smoking, but we do appreciate the lovely illustrations).
Arabian Nights ATC by Design Team Member Rhonda Secrist Thomas created for the Arabian Nights Framed ATCs Swap; other components in Rhonda's artwork.
Peacocks Collage Sheet 130804sp 130804nkt 130804ptc 130804gmd ARAB