Description
 
Ooh! It's time for some Halloween projects! This kit started with some sketches of Paris cemetery tombs that became the 3 chipboard Miniature Reliquaries in the kit (note: there are some larger tombs being announced this month, too). There are also 3 collage sheets, with images from spooky skeletons to sweet Man in the Moon illustrations (and 7 scrapbook papers as backgrounds).
Back to this kit, let's start with Miniature Reliquaries: 3 ATC-sized chipboard shapes (each is 2 pieces: a solid back and a matching shaped overlay/frame). The one with a round niche at the top will fit an 18mm cabochon.
Next up in this kit are 3 collage sheets:
- New How Sweet the Moon. Aw... these are sweet indeed! Vintage images, mainly from postcards, of the smiling Man in the Moon, along with cats, owls, sweethearts, and pumpkin-headed children? Note: the smaller silhouetted images are sized to fit 18mm cabochons (the same size as the round inset in the top of one of the Miniature Reliquaries).
- New Romantic Victorian Halloween Women Collage Sheet. Not just for Halloween, but these lovely ladies would make a good image to frame in an ATC or a Miniature Reliquary.
- Skeleton Slide Mailers Collage Sheet. Skeletons (some dressed in 19th century clothing, some from Renaissance Memento Mori paintings), sized for 2-slide Slide Mailers (3" x 3-3/4" so ample room to use on ATCs or on the new Miniature Reliquaries.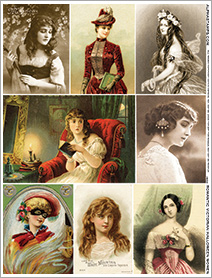 Lastly, SEVEN (!) scrapbook papers! I went looking for stone and faded wallpaper patterns that would be good as backgrounds. Note: the 7 papers in the kit are 6" x 6". More than ample for a Miniature Reliquary. And if you fall in love with a pattern, you can buy a full 12" x 12" sheet. There's a photo of all the papers together below... just past the 2 art samples.
See the "We Also Recommend" section below for photos/links to all of the items in the kit, also available to purchase separately. Note: the site will only allow 9 items to be shown below, so do check this
custom search
to see photos of all of them.
AND: all the items in the kit are On Sale, too!
Beside the artwork on this page, see the newsletter announcing this kit for artwork by Teri Calia, Design Team Members Caroline Ouzts-Hay and Lora Mahaffey, and Design Team Coordinator Miz Bella (Kim Ayers) — and (tons of) new related supplies!
Timing
Kits are announced the first weekend of each month. However, if you sign up for a subscription, your kit will probably have already been mailed to you.
A note on timing for subscribers: the kits don't ship till your automatic payment is made; the recurring payment date is based on the date you signed up for the subscription. If you'd like to make a 1-time "catch up" payment so that you'll be first in line to receive all future kits, contact Customer Service.
If you buy a subscription after the 15th of the month, your first kit will be for the following month (so if you subscribe on October 16th, the November kit will be your first kit).
Kits from previous months will be available for purchasing until sold out.
And remember, here's a link to everything in this month's kit that is also available to buy separately. More coordinating goodies are listed on the blog post announcing this kit.
Miz Bella made some Spooky Reliquaries (see the wide photo below). More info in the blog and/or see the supply list.


Teri Calia made some Miniature Reliquaries (see the wide photo below). More info in the blog.
160904CH 160904BL 160925LC 160925SC 160929TR 160929HP september SOkitdiv 161016RT 2016