Description
A decadent-looking resin miniature... just 15mm diameter.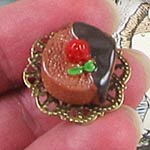 In case you'd like a tiny cake plate, shown above with a 27mm Round Filigree Setting and a 21mm Fancy Round Filigree for scale (sold separately).
Shown at right with a Tiny Cake Plate Filigree.
These are also included in the Alice in an Altoids Tin Kit - May 2016; see all the other kit components available to buy separately.
Sold individually.
Design Team Coordinator Miz Bella made a Mad Tea Party Theatre (see the wide photo below). More info in the blog and/or see the supply list.
150501AlcTinKit 160602SM 161125LM resin 180315LC 200304BL 181125LC 181209RT 210318CL 181229SC 190505EL