Description
This collage sheet is half a US letter-sized page (5-1/2" x 8-1/2") with most of the numerals sized for 7mm tags. I've also included a sweet image from a vintage copy of "One, Two, Buckle my shoe" from my antique book collection (reduced so the numerals are small, too).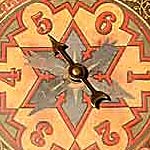 Coffee Table Fortune Teller Box
Tutorial by Design Team Member Sarah Whitmire. More info in the blog.
Mini Numerals - Half Collage Sheet numbers game spinner buckle my shoe currency 120612NBgl 121012CFlrds 130407kmb PEND