Description
UPDATED! These little shadowboxes now come lined in a random mix of black or red fabric (red is shown in one of the extra photos above). BUT it's super easy to replace the fabric inside with another color, like these suede paper options.
A tiny little shadowbox with a metal frame.
As you can see, you can remove the velveteen lining to add objects.
This item is in Dollhouse 1:12 Scale.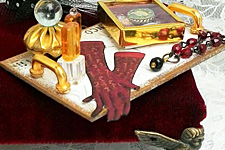 Boutique Exquisite by Laura Carson; See the Supply List.
More info in the blog.
220201RT 150815LCO 150815LBT 160128NBPPV 160821TC 160926TC black velveteen suede 210819CL 161204BL 170507NB 191212new