Description
LOVE these! They are hollow and you can put stuff inside!
Set of 3 jars plus lids (plastic jars with metal lids).
New! See below for buying the individual jars separately.
This item is in Dollhouse 1:12 Scale.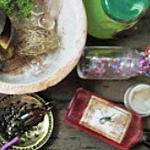 Witch's Cottage by Shannon Cooper; See the Supply List.
More info is in the blog.
Mini Mason Jars - Set of 3 glass bottles 150725swc 150906LGSC 151029SLP 210114SC 170910JN 160417RMA 161201SC 190801SC 180812SC 170226JC 170406SC 170518TC 201004LCbtl 200213SC 170524LM 170528BL 171217NB kindaDS