Description
Based on the popularity of the Matchbox Skyline Book, I designed a Mini Conservatory Accordion Book (approx 4" tall and with lots of window options). This little book was the starting point for this kit.
And I found this lovely, new (large... 24 different designs!) paper pad: Wandering Ivy 12x12 Paper Pad. The kit includes a 6" x 6" (quarter page) for ALL 24 pages! Tons of paper! (Click on the second extra photo to see the variety.)
Back to the book itself, some of the photos on the separate book page show keeping one side of the tabs intact to make "openable" doors. Or you can remove the doors entirely and make an accordion book to sit backlit on a windowsill with faux stained glass in the windows? (See Laura Carson's beautiful artwork below for just such a project.)
The kit also includes: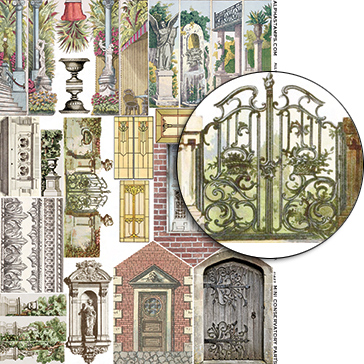 - One vine from the Green Embossed Dresden Ivy Leaves
- The new Mini Conservatory Parts Collage Sheet (Tons of little windows, doors, statues, plants & trims: all sized for the Conservatory Accordion Book.)
- Finally, a collage sheet exclusive to the kit: A Mini Stained Glass Collage Sheet printed on transparency film! It includes a few of the images from Laura's larger Stained Glass Windows Collage Sheet (plus a few more images only available on this half-page collage sheet).
See the "We Also Recommend" section below for photos/links to the items in the kit that are also available to purchase separately.
AND: all the items in the kit are On Sale, too!
 
Timing
Kits are announced the first weekend of each month. However, if you sign up for a subscription, your kit will probably have already been mailed to you.
A note on timing for subscribers: the kits don't ship till your automatic payment is made; the recurring payment date is based on the date you signed up for the subscription. If you'd like to make a 1-time "catch up" payment so that you'll be first in line to receive all future kits, contact Customer Service.
If you buy a subscription after the 15th of the month, your first kit will be for the following month (so if you subscribe on October 16th, the November kit will be your first kit).
Kits from previous months will be available for purchasing until sold out.
And remember, here's a link to everything in this month's kit that is also available to buy separately. More coordinating goodies (and more info about the artwork) are in the blog post announcing this kit.
Design Team Member Laura Carson made a Miniature Conservatory (with faux stained glass windows — see the wide photo below). More info in the blog and/or see the supply list.
180628BL 180603LC 180617RT 180620NB SOkitdiv