Description
This set is packed with a 110 mermaid and sea themed images. Most of the images are also found on the Mermaid Garden Collage Sheets and the Mermen Collage Sheet. But since this is a digital image set it gave me the opportunity to include images not in any of the previous collage sheets. All of the images in this set can be re-sized for your project as they are high resolution (300dpi) PNG formatted images.
4 Mermaids, 3 Mermen, 4 Pearls, 29 Shells, 3 12x12 Ocean Backgrounds.
22 Architectural, Relic, and Miscellaneous Images which includes:
Architectural Ruins (4), Divers Helmet, Helmets (2), Fantasy Clock, Chariot, Columns, Rocks, Fountain, Frame, Pots, Shell Chair, Shell Throne, Medallion, Trident, and Statues (4).
45 Sea Creatures which includes:
Sea Horses (10), Fish (8), Crab, Squid, Octopuses(2), Sea Anemone, Sea Urchin, Star Fish (7), Sand Dollars (2), Seaweed, and Coral (10).
Set of 110.
Exclusive to Alpha Stamps by Artfully Musing.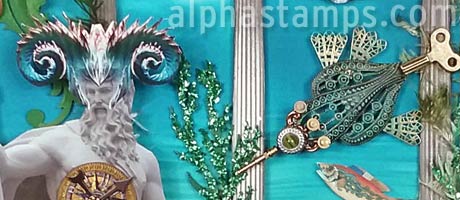 ATLANTIS - Mermen & Mermaids with a Steampunk Twist by Laura Carson; see the Supply List.
More info in the blog.
Mermaid Garden Set Download shells seahorses starfish mermen fish urchin coral dollars weed sea ocean beach 160721LC 170608LC dgtlUSG 200823LCAB