Description
Adorable little labels for the Miniature Round and Square Cookie Tins, plus a variety of plastic mini tins and bottles linked below.
Includes labels for Christmas cookies, laundry soap, tea, crackers, spices... many made for fairies.
NOTE: since these are miniature, the printed version of this sheet is on a lighter weight 24 lb laser stock (the normal 80 lb stock is just too heavy at this scale!)
Exclusive to Alpha Stamps by Nichola Battilana.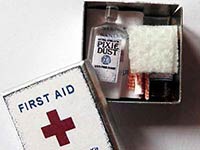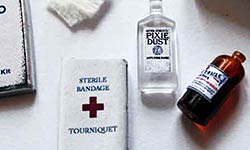 Fairy First Aid Kit by Design Team Member Nichola Battilana; see the Supply List.
More info in the blog.
151228NFK 170720LM Little Household Goods Collage Sheet first aid laundry soap, tea, food labels crackers, spices fairies fairy Christmas cookies 210114SC 200907KB 160117TLM 160128NBPPV 181206SC PXHL 170723SC 200712KB