Description
Yay! It's time for full-on Halloween!
And, how cute is this: the combo of new ATC cards (FIVE of them!) and new Halloween collage sheets by Teri Calia (FOUR of them!) equals tons of fun for the September kit and... A Halloween Swap!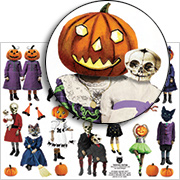 But first: the Little Ghouls Kit. A good mix of items to make ATCs or some small Halloween projects, starting with TWO of the new ATC cards:
- Wrought Iron ATC Card - Spider Web
- Bat Border ATC Card.
Both are sets of chipboard ATC cards (a solid back plus a shaped overlay). There is one of each card set in the kit.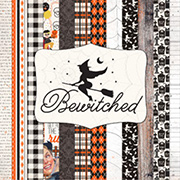 Next up: 8 double-sided scrapbook papers (all the designs from the new Bewitched 6x6 Paper Pad — nice small prints for little projects like ATCs).
Then FOUR collage sheets: 3 new ones by Teri (2 with cute kids — some hand-tinted by Teri and with pumpkin heads (!) and some ready to be colored or accessorized as you see fit — and a mini sheet of Halloween accessories); the 4th sheet is a spiffied-up mini sheet with Familiars to pose with your Halloween tykes. (See the photos below for links to each college sheet page, with lots more info.) Plus a custom ribbon set (tiny!) and the
cutest buttons you will ever see
.
Artwork! Trick-or-Treater's ATC Double Sided Triptych (see the first wide photo below) is by Design Team Member Laura Carson. More info and photos in Laura's blog post, and here's a link to see all her supplies.
Halloween Night ATCs (see the second wide photo below) are by Design Team Member Kristin Batsel. More info in the Kristin's blog post. Here's Kristin's supply list.
See the "We Also Recommend" section below for photos/links to the items in the kit that are also available to purchase separately, or check this custom search to see photos of all of them.
AND: all the items in the kit are On Sale, too!

Timing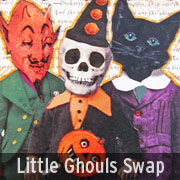 Kits are announced the first weekend of each month. However, if you sign up for a subscription, your kit will probably have already been mailed to you.
A note on timing for subscribers: the kits don't ship till your automatic payment is made; the recurring payment date is based on the date you signed up for the subscription. If you'd like to make a 1-time "catch up" payment so that you'll be first in line to receive all future kits, contact Customer Service.
If you buy a subscription after the 15th of the month, your first kit will be for the following month (so if you subscribe on October 16th, the November kit will be your first kit).
Kits from previous months will be available for purchasing until sold out.
And remember, here's a link to everything in this month's kit that is also available to buy separately. More coordinating goodies (and more artwork!) are in the blog post announcing this kit.
170901TC 170830LC 171018RT 170803KB SOkitdiv