Description
A sheet with paper models to put together mini cigar boxes! (Plus some fetching babes from vintage cigar box labels.)
Note: a gift card will fit in the larger cigar box... and that larger box is 2-1/2" x 3-1/2" (that's the outside dimension so an ATC could go on the lid, but won't fit inside).
The outline of the smaller box would fit on a 6" x 6" sheet of paper (in case you want to use the outline as a template to cut more mini cigar boxes from a 6x6 paper pad.
Add some paper tape or mini cigar box trims around the edges for a more realistic cigar box.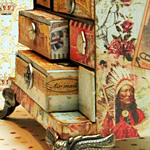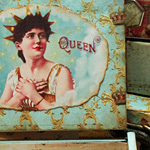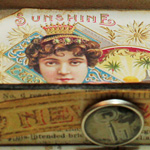 Cigar Box Chest by Jeanne Draachreider. See the Supply List.
For more information see the blog.
Roses Las Rosas Mini Cigar Boxes Collage Sheet 141102AOCBK 141009jcb PTOY