Description
The feel of carved stone (artificial turquoise)! They feel wonderful (nice weight and surface... and each one is unique).
18mm tall. See the additional photo for a size comparison to the 12mm and 8mm versions.
Sold individually.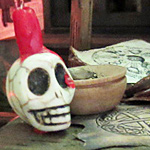 Witch's Cottage by Shannon Cooper; See the Supply List.
More info is in the blog.
Large White Turquoise Skull Beads* 150725swc 150730law 150730ldb 170913LC 150820LDC 180909KB 171001KB 150830DLO 150906LGHB 150906LRTE 150924NBT 160901RS 160908LM 200119SC 170524LM 170816SC