Description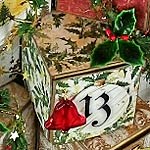 Shown as part of the Christmas Tree Advent Calendar Tutorial by Laura Carson (click for more info).
Each stem has 3 leaves (approx 7/8" long) and 3 red berries.
Set of 12 stems.
Design Team Member Kristin Batsel made Santa and Snowman Ornaments (see the wide photo below). More info in the blog and/or see the supply list.
SSCK191129 131114lcc 131205lxw 140925BCC 141026bwn 141123lwr 141201lc12 151101KBAB 151112SCC 151115NBC 151112TBC 161126TC 181202RT 181213BL 161204KB 161204KB 191212KB 171029KB 171029LC 171116SC 171119NB 191103KB