Description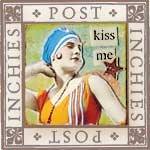 These were designed for "inchies" but as they're square frames, they'll work for any square artwork (like 2" x 2" "twinsies").
Set of 19 pieces: 7 frames (including 2 theatrical stages with curtains), a 2x2 positioning template (to help align inchies better if you're doing a big grid of them), 4 ornate borders (to build your own little frames), 5 text phrases (or words), a little banister with bunting, and.. a crown!
Artwork shown at right by Design Team Member Kristin Batsel.
dgtlUSGInchies Frames Set Download borders curtains square border post faux postage queen crown