Description
Cute! Black chipboard laser-cut into FOUR different house shapes... each one with a different silhouette (so that you'll be able to catch a peek of the pages behind the cover if you bind these into a book).
Of course, you could do as Laura Carson, and use them individually as building facades for a Haunted Village!
Four house shapes, each approx. 7" wide x 9" tall.
Exclusive to Alpha Stamps by Artfully Musing.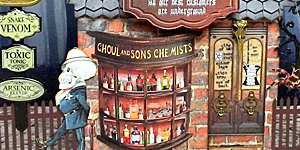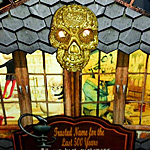 Ghoul & Sons Chemist by Laura Carson; See the Supply List.
More info in the blog.
SOkitdiv 150906HHkit 150906LHBT 150906LTW 150906LRTE 150906LGHB 150906LGSC 150906addHH 150910LWB 150913KBT 150920SSH 150920LDG 150920LZB 150920LBC 150920LBC 150927CHH 150927NBH 160828LC