Description
Very soft considering the metal content. 
Sold by the yard.
Half a yard is also included in the Mini Wrapping Paper Storage Chest Kit; see all the other kit components available to buy separately.
Also shown above with the other ribbons in the kit.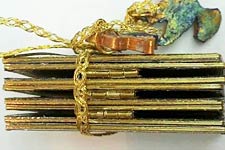 Tiny Accordion Fold Book by Laura Carson; See the Supply List.
More info in the blog.
150125AFG 151129KSM 151129RTS 151129DecSleighkit 151129DecSleighkit 151129SPS 151129KSM 151129KLS 151129SPS 151217COH 160512LHS ribbon 221127new 221127dec22kt