Description
Shown as part of a Circus Book Giveaway.
Adorable set of "parts" (including curtains, banners and a circus tent top) to make your own version of Kristin's Circus Tunnel Book shown below!
Note: sized for 4" x 4" projects.
Exclusive to Alpha Stamps by Teri Calia.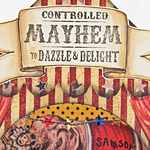 Big Top Tunnel Book by Kristin Batsel; other components in Kristin's artwork.
Click here to see more photos in the Gallery, or learn more about Kristin's project in the blog.
Circus Tunnel Parts Collage Sheet 130620kb curtains banner ticket square 150625ss CATN