Description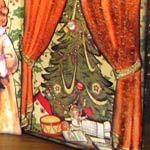 Artwork by Design Team Member Amy Rozeboom; see more artwork in The Toy Shop Shrine Swap gallery.
A sweet sheet with Christmas trees in varying sizes (and a couple Dolly Dingle* paper dolls).
Also includes a little paper toy from 1907 (here's a finished sample of a toy from the same series (from the Halloween #3 Collage Sheet, linked below) and instructions... children must have been more clever in 1907).
*The long-running "Dolly Dingle" paper doll series, illustrated by Grace G. Drayton, which began in 1913. She also created the Campbell kids which have been mascots for Campbell Soup since 1904.

Indoor Trinket Stand by Rhonda Secrist Thomas. See the Supply List.
More info is in the blog.
Christmas Trees Collage Sheet searchxmas santa xmasswap xmas2011 digital paper 181129KB dolls 171214RT 151108RCB 151101KBAB 151112SCC 151115NBC 151210RTI claus toys 161208RT XMAS