Description
Sweet! A tiny kit (laser-cut chipboard) to put together a mini version of the Chipboard Steamer Trunk - Large Size. Love the tiny desktop that folds down!
Note: this tiny size does not have chipboard drawers to fit in the cubbies, but this collage sheet has drawers you can fold together that fit!
Instructions (in a nutshell: work from the inside out):
- Tab the shelves into the back.
- Add the top and bottom.
- Place one side.
- Add the drop-down (desk) panel into the hole provided.
- Add the other side, fitting tabs and drop piece (desk) into holes.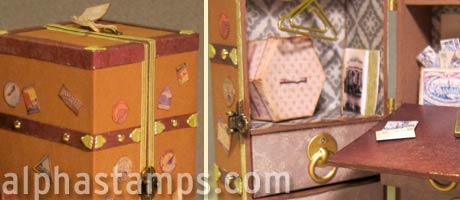 Mini Steamer Trunk and Suitcase by Guest Designer Angie Cook; see the Supply List.
More info in the blog.
Chipboard Steamer Trunk - 4 Inch 160821AC 160821TC 170406SC 170720LC gryGD 171026SC 150405KTT GND