Description
Adorable! Teeny, tiny papers and trims for making a 1/4 scale dollhouse. Includes flooring, throw rugs, and some ridiculously tiny book covers.
Note: 1/4 scale is also called 1:48 scale ("1/4 inch to 1 foot scale"... 4 times as small as the "1 inch to 1 foot scale" items in the 1:12 Dollhouse Section.)
Licensed from Teri Calia.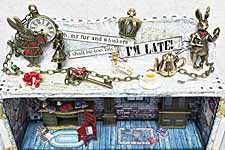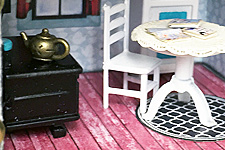 The White Rabbit's Hutch by Teri Calia. See the Supply List.
For more information see the blog.
190519SC 150820WRH 190421LM 160313BSG 160512BHT 181108SC CATN 220630SC 200304BL