Description
Ten Queens accordion book by Teri Velazquez.
Christmas tag shown in the additional photo above (with one of the queens in a Santa hat!) by Teri Calia.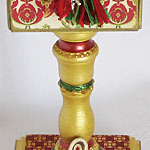 8 Prima Donnas by Design Team Member Lora Mahaffey, created for The Twelve Days of Christmas; other components used in the artwork.
Learn more about this artwork in Lora's tutorial.
British Queens #2 Collage Sheet digital 120812LMprma 130401laa 130421lcbs crown THRS