Description
By request (from Kristin, see below): bird cages sized to fit on Blank Altoids Tins. Plus quite a few birds to sit in or on the cages (most of the birds are perched... a few are flying).
Here's a few more items with ravens or crows.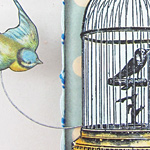 Flying Birds Altoids Tin by Design Team Member Kristin Batsel. See the Supply List.
For more information see the blog post.
Bird Cage Collage Sheet 140105kfb crow raven swallow birdcages 140123lmx 160201KBF BRDS 190509SY