Description
The bathing machine was a device, popular in the 18th and 19th centuries, to allow people to change out of their usual clothes into swimwear and then wade into the ocean at beaches (without being seen by the opposite sex). Bathing machines were roofed and walled wooden carts rolled into the sea. Some had solid wooden walls; others had canvas walls over a wooden frame.
I just love those vintage contraptions so I had this exclusive one made!
This one comes complete with wheels, stairs, a door and 3 windows. And a roof that you can choose to glue down or lift off to see the interior easier.
Laser cut from heavy chipboard. Ships flat, but easy to put together with a bit of glue. Comes complete with the dowels for the wheel axles. Finished size is approx. 6-1/2" tall x 5-1/2" long (without the stairs) x 3" wide (including the wheels). (The door is about 3" tall, so this could be used for 1:24 scale.)
This item is smaller than 1:12 scale (but perfect for the ladies on the collage sheets below)!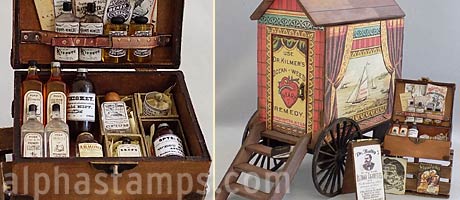 Snake Oil Caravan by Shannon Cooper. See the Supply List.
More info is in the blog.
The Bathing Machine by Rhonda Secrist Thomas. See the Supply List.
More info is in the blog.
Bathing Machine Kit chipboard 160801SC wagon cart house wheels 160804RT 160804LC gryGD kindaDS  GND