Description
This is so cute! A faux book to put together with a wrap-around cover and a box area inside for housing ATCs or for building a little shrine. ATCs (or Artist Trading Cards) are 2-1/2" x 3-1/2".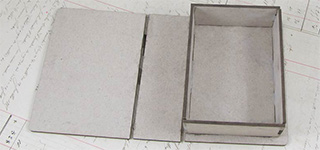 See the Bird Book Covers Collage Sheet for covers sized to fit this box (and more info on those pretty bird ATCs and book box (below) by Lora Mahaffey are in the blog).
Note: the spine and front cover are separate pieces that you'll need to hinge together with paper tape (the box notches into the back cover so it is a fixed piece). Ships flat, but easy to put together with a bit of glue. Heavyweight chipboard.
Design Team Member Laura Carson made a Regency Christmas Themed ATC Bookcase (see the first wide photo below). More info in the blog and/or see the supply list.

Blue Bird Book Box by Lora Mahaffey; See the Supply List.
More info in the blog.
160428LFMATC Sized Faux Book Box 160421LMT 160421LMBB chipboard 160428LFM 190411LC 160428LMQ 190411LC 160911TC 161208LC gryGD kindaDS GND   GND