Description
THREE sets of 2 pieces (2 laser-cut chipboard pieces - a solid back and a matching front but the front has a window cut out).
Use them separately or hinge them together (with paper tape, metal hinges, etc.) to make into one wider group.
Almost 6" tall.
3 sets (6 pieces).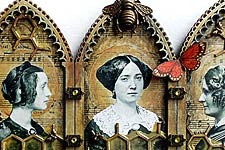 Bee Reliquary by Nichola Battilana; See the Supply List.
For more information see the blog.
Arch Top Reliquary - Triptych* 150510NBR 150917MFW 160529TC gothic gryGD kindaDS GND   GND