Description
Lots of silly humans (and birds) sized for 1" circles, 1" squares ("inchies"), 1-1/2" circles, and 2" squares. (Though you can always crop in tighter and use either of the larger sizes for 1" circles or squares).
Included in the eccentric humans: Edgar Allan Poe, Oscar Wilde and The Mad Hatter from Alice in Wonderland.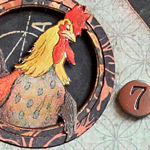 Artwork by Design Team Member Jeanne Draachreider. See the Supply List. 
For more information see the blog.
An Odd Bird Inchies Collage Sheet 140202aobk 140202chb 140202nbb 140202jdb 140206tcbh alan Edgar Allan Poe Oscar Wilde the mad hatter alice in wonderland 140213jdtb 140213jdga 140220losb duck goose BRDS