Description
Teeny tiny glass bottles with corks (now in AMBER)! 18mm tall (without the cork).
Set of 6.
In the photo below, the line-up shows tiny bottles in a Bagatelle Box - 1-1/2 x 4 Inches (left to right): one of the 12 Tiny Glass Bottles set, a Mini Inkwell Bottle, a Tiny Round Bottle (upside-down) and an Amber Even Tinier Bottle.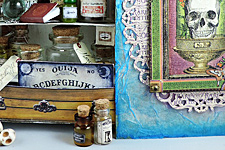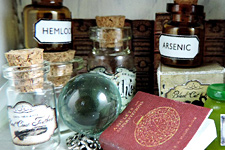 The Gypsy Spellbook by Design Team Member Shanna Shands. See the Supply List.
More info is in the blog.
220828SC 140904twp glass tiny small miniature cork 140921LCC 180830LC bgtlbttles 141019lapb 141030ngb 150723sbk 150830DLO 211003SC 150830RTL 150906LRTE 151022TWR 160901RS 190915LM 180927LA 181021LW 170702MatCabkit 170712RT 170712RT 170713TC 170716NB 190926SC 180812SC 200119SC 201004LCbtl 200806new 201105SC 220908KB