Description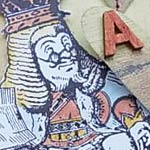 Artwork by Tracy Evans; created for The Altered Alice.
This is a giant sheet with lots of stamps from Alice in Wonderland, including some wonderful silhouettes. Includes the King and Queen of Hearts, the Caterpillar, a flamingo border, the Cheshire Cat, Humpty Dumpty, the Frog- and Fish-Footmen, 2 versions of the White Rabbit and a couple different illustrator's versions of Alice herself.
9" x 6" sheet of unmounted rubber.
191003new 140615rsb redrbr 190808new dumptytheme