Description
21mm diameter, flat-back resin cabochon; perfect for an Alice in Wonderland project.
Sold individually.
These are also included in the Alice in an Altoids Tin Kit - May 2016; see all the other kit components available to buy separately.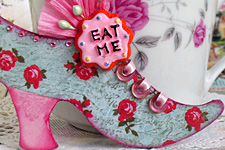 High Tea With Marie by Design Team Member Shannon Cooper. See the Supply List.
More info is in the blog.
150305SSM 150319SMT 150322LTP 180802new 150501AlcTinKit