Description
See the small photo at right for a preview of the finished tent (more color and size options are included in the Digital Download Set version, sold separately.
Note: You will need to print (or purchase) this collage sheet twice to make 1 complete tent. See Laura's sample for more info and a link to the tutorial.
Exclusive to Alpha Stamps by Artfully Musing.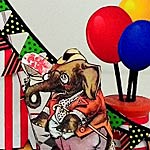 Circus Tent by Design Team Member Laura Carson
For more information, please see the tutorial.
banner pennants 131024lcr 140413ltb 140713lcc 150517CTT