Description
Marie Clock by Rhonda Secrist Thomas. See the Supply List.
More info is in the blog.
Aw... a tiny little teapot (that can stand up) with "Tea Time" etched into one side. 16x12mm (smaller than dollhouse 1:12 scale)
Sold individually.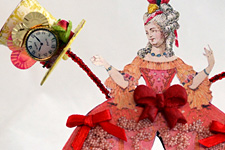 Marie Teacup by Caroline Ouzts-Hay. See the Supply List.
For more information see the blog.
3D Bronze Tea Time Teapot Charm alicetheme in wonderland 150308RMC 150308CMT 150514LMHAB 171210LM 151025FTB 160501SCT