Description
Elegant woman's slipper shape, laser-cut in sturdy, kraft-colored, acid-free chipboard (1mm thick).
Has a lovely Louis heel (and I wonder how comfortable shoeswere when the heels were shifted forward to the arch of the foot).
Just fits within an ATC (2-1/2" x 3-1/2").
Perfect for Marie Antoinette or Madame de Pompadour projects.
Alpha Stamps exclusive!
Sold individually.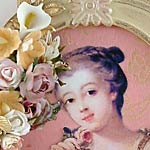 Artwork by Design Team Member Laura Carson; for more info see the Making a Chipboard Shoe Picture Stand tutorial!
18th Century Chipboard Shoe marie antoinette pompadour slipper louis heel 120122marienew laurashoestand atc 121123YTbx 130421lcbs Die-Cut 150301MiW 150319SMT 150318RLH 150507LSS